Paintball Near the Pocono
If you're reading this, then you're probably wondering "where can I find high-end competition level paintball facilities near me?". The answer is simple: The Paintball Asylum. As the go-to adventure center in the Pocono area, we're proud to offer state-of-the-art fields, equipment and outstanding customer service at affordable prices so that everyone can enjoy an adrenaline-filled day with friends and family.
If you want to participate in a competitive game, The Paintball Asylum is also the preferred choice for pro players in the Pocono area because our tournaments are challenging and offer lots of variety. Try out our 3-man Speedball competition and discover your new favorite mode of high-octane paintball where momentum, speed and strategy come together in one single game.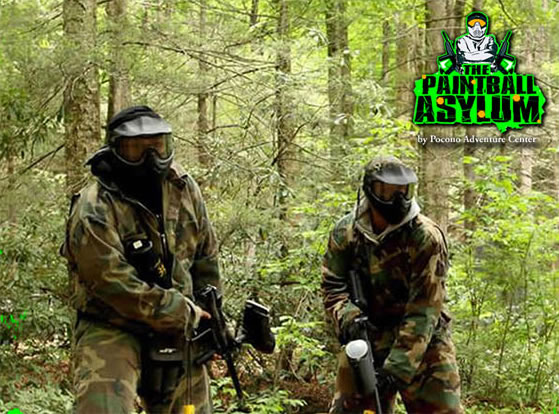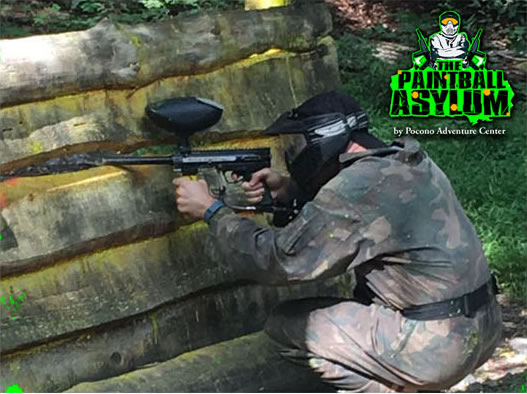 Check out our aerial image to fully appreciate the sheer amount of possibilities that The Paintball Asylum has to offer. Take a look at our various themed areas like Hostile Takeover, Teepee Town, The Asylum, Boomerang, The Eliminator, Dead Man's Alley, Run Flat and our fully equipped, high-end Speedball field.
Gather your friends, family or competitive team and join the community of Paintball Asylum, where pros and beginners alike find what they're looking for at cheap prices and with the best equipment in the market.
"Paintball near me", you say? The Paintball Asylum is the ultimate destination. We offer the widest variety of package options so that you can find the one that's appropriate for your group, budget and skill level. Bronze, Silver, Gold and Platinum packages are available. Take a look:
Players coming in with large groups get instant benefits and savings for extra value. For instance, arrive with 15-24 players on game day and receive 1 Free Silver Package, a Private Field and a Private Referee. This offer is ideal for experienced players training for a competition or for beginners looking to get prepared for upping their game.
Often times larger groups come to celebrate a birthday or take part in a corporate team-building event. For groups with 25-59 players on game day, we provide 1 Free Silver Package, a Private Field, a Private Referee and 2000 Free paintballs.
Finally, for private competitions where many teams come together to enjoy a full day of high octane, thrilling paintball, we offer an amazing opportunity. 60 plus players on game day get you 1 Free Silver package for every 20 players, $5.00 off any package, a Private Field, a Private Referee, free use of the picnic and bonfire area.
A survivalist challenge
Did you know that paintball was initially created as a challenge between city folks and those that live in the country in order to prove which had the best survival skills? This was back in 1981 when Bob Gurnsey, Bob Jones and Charles Gaines created a safe and challenging sport were tagging opponents would be possible without harming them and appeal to their survival abilities. The concept behind this was "the hunter becomes hunted".
Popularity for Paintball rose after Jones talked about it with Sports Illustrated. Later, he and his friends would partner with Nelson Paint company to exclusively distribute the guns and paintballs they had invented. At the time, paintball was called the National Survival Game.
Since then, paintball has evolved and gotten more and more sophisticated. The 1990's were definitely a time of growth for this thrilling sport.