Plan An Unforgettable Bachelor Party In The Poconos
Are you planning a bachelor party for a friend who is about to get married? Go for a high-octane celebration with The Paintball Asylum. Take advantage of the huge benefits we offer for large groups, schedule your party just 48 hours in advance and save big time. What are you waiting for? Take it to the next level by thinking outside of the box and organize a one-of-a-kind experience for you and your best friends.
We're proud to provide the most options for both adventure enthusiasts and competitive players in the Poconos. Our services range from winter sports to competitive and casual paintball to water activities. Check out our discount packages suitable for a variety of budgets.
Schedule Your Epic Battle And Unforgettable Bachelor Party With The Paintball Asylum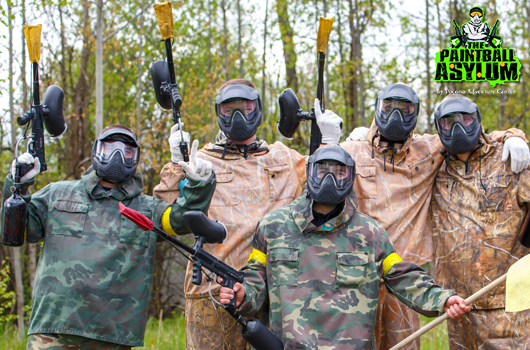 We know that planning a bachelor party can be a challenge if you're aiming for something out of the ordinary. That's why we've included the Battles and Paddles package to our wide list of activities. Let's take a closer look at what it's all about:
Need Some Bachelor Party Ideas In The Poconos? Try our Battles And Paddles Package!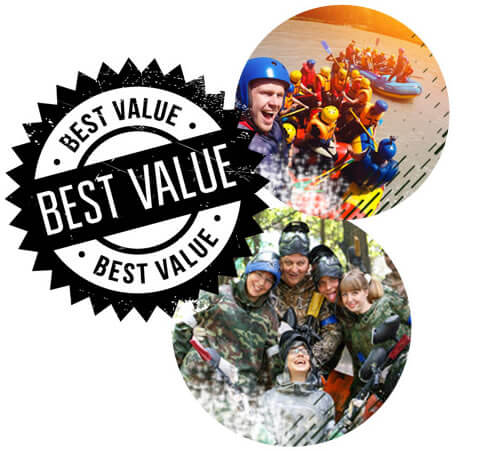 Paintball & Canoeing
Super Value Combination Package!
$84.95 plus tax per person
4 Person Minimum
7 Day Advanced Booking Required
Reservations by Phone or Email Only
Package Details:
8:30am – 11:30pm: Action Packed Paintball
Start off with an action packed session of Paintball at the Asylum! Once the battles are over head down to Delaware Water Gap to relax and enjoy your river adventure.
1:00pm – 6:00pm: Canoeing
Arrive by your own car at the Edge of the Woods Outfitters River Base (20 minutes from The Paintball Asylum). We will have all your equipment waiting for you: canoe, kayak or raft, paddles, and life jackets. Also included is an orientation, shuttles to and from the DWG base and free parking. River trips range from 4-6 miles and take approximately 2-3 hours depending on paddle time.
Package Includes
Admission to the 30 Acre Paintball Asylum
Paintball Gun Rental
Goggles Rental
Pack and Pods Rental
Camouflage jumpsuit Rental
500 paintballs!
Professional Referees
Unlimited compressed air
Canoe, Kayak, or Raft Rental
Paddles Rental
Life Jackets
Orientation
Shuttles to/from the Delaware Water Gap base
Free parking!
We Are the Top Choice For Competitive Paintball In The Poconos
The Paintball Asylum is, hands down, the go-to adventure center in the Pocono area. We're proud to offer state-of-the-art fields, equipment and outstanding customer service at affordable prices so that everyone can enjoy an adrenaline-filled day with friends and family.
Whether you're looking for a one time exciting experience or competitive tournaments, The Paintball Asylum is your best bet. We're the #1 choice for pro players in the Pocono area, as our tournaments are very challenging and offer a lot of variety. Try out our 3-man Speedball competition and discover your new favorite mode of paintball when you get into high octane action. Momentum, speed and strategy come together in one single game.
There's no better way to celebrate a Bachelor Party in the Poconos or any type of corporate event or celebration. Book now and start preparing yourself for an extraordinary day!
We also know that sometimes a full day of activities may be too much, so if a 12-hour adrenaline-filled day is too long for you, half a day of epic paintball battles are also available. Sounds good? Then let's take a look at our discount packages.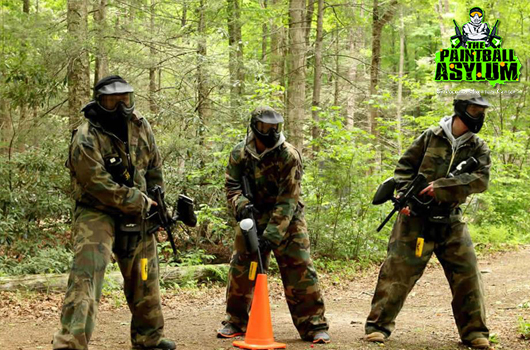 Get In Touch With Us Now And Book An Unforgettable Bachelor Party At The Paintball Asylum