If You're Looking For Activities In The Poconos, Come Visit Us At The Paintball Asylum
The Pocono Mountains are ideal for escaping the day to day, taking in the scenery and enjoying a breath of fresh air. But this popular destination is not just about stunning hiking trails for a leisurely Sunday afternoon. Get your adrenaline pumping and your heart racing with us at the Paintball Asylum. Afterall, a little friendly competition and excitement is good for the soul.
Yeah sure, you could just sit and relax with the picturesque Poconos as your backdrop, but why would you? Every single one of our customers come to us looking for something with an edge, something that gets their brains working and their bodies moving. After all, you have the rest of your trip to relax, why not spend a couple of hours conquering your enemies and shouting victory.
The Paintball Asylum is the perfect venue for all sorts of occasions. Our unique location and sought after experience is also ideal for bachelor parties, birthdays, family reunions and even corporate and business trips. We offer a wide array of activities for every level of play, from young novice to seasoned pro.
Check Out Our 8 Unique Paintball Fields
Learn more about each one
here!
Beyond Paintball: Battles & Paddles Combo And More!
If you're looking to have a taste of a little bit of everything the Paintball Asylum has to offer, we suggest our Battles & Paddles combo. Family reunions and business trips just got way more exciting. Build employee morale and strengthen relationships with paintball.
Our Battles & Paddles package includes both paintball madness and the fresh air that comes with canoeing, rafting or kayaking. This package creates a perfect outing for large groups. Get more info here!
For families with young children, we also have a paintball for kids package featuring state-of-the-art ultra safe markers for which we thank our friends at Gotcha. The Gotcha paintball marker is designed for low impact and can shoot up to 100 feet. With our experienced and professional instructors and referees, both safety and endless amounts of fun are guaranteed!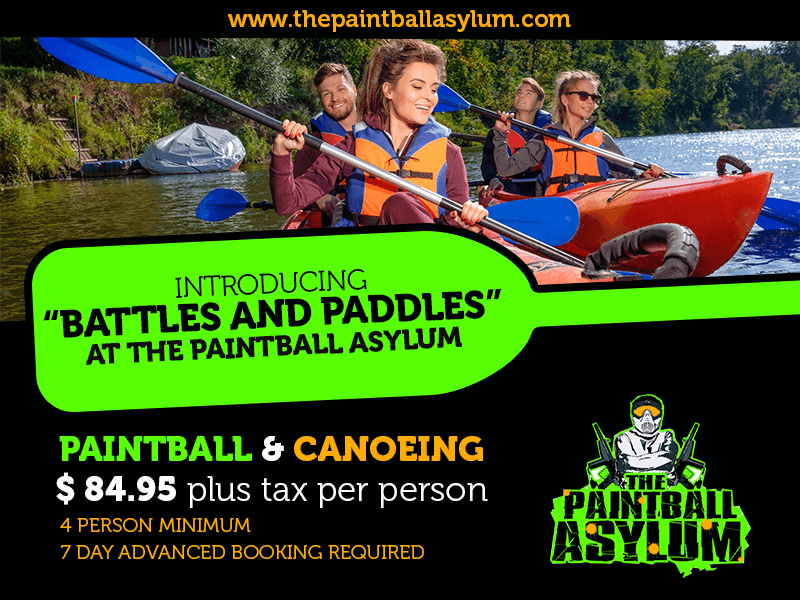 Your Day Of Activities In The Poconos
Is Now Officially Solved!
Now that you know what the Paintball Asylum is all about and the variety of options we offer, we invite you to check out our rates and contact us to make a reservation.
What are you waiting for? Get energized with the Paintball Asylum!